The food industry is ripe for a revolution. And while many companies have helped jumpstart the #realfood revolution by bringing in organic, there are few examples of food companies using business model innovation to spark scalable change. That's why in this blog we are going to look at how BMi can be used to go beyond organic and reinvent our entire food chain.
Business Model Innovation – it's the theme du jour these days on the blog as we start exploring ways to use it to shakeup some big industries. In our last post, we talked about a few inspiring BMi examples and shared some basic BMi strategies; however, in this post, we are going to get down and dirty, and take a look at how to sow seeds using BMi to bear fruit in FOOD.
+ Time for BMi – Business Model Innovation
When we think of companies that have really shaken up the food industry for the better in the last few years, the first company that comes to mind is Whole Foods. In fact, over the course of the last decade, Whole Foods has become the beacon for what we call the #real-food revolution. Thanks to their leadership, organic has become less of a hippy-homestead symbol and more of a food-conscious-family staple. Step into any Whole Foods store at lunch hour in New York City, for example, and you will see a construction worker entering in one door and a yoga teacher the other.
And yet, for all their hard work and commitment to reinventing the food supply chain, their business model is anything but innovative. They, like all other major supermarkets, have three key revenue streams:
grocery product sales;
eat-in market;
branded line of products.
Their business model is based on high markup and low wages; recently they have started to compete more with the mainstream market on price, but this is the model which has made them a tremendously profitable and allowed them to reach their current scale.
And while Whole Foods has had a tremendous effect on transforming the supply chain, shedding light on genetically-modified foods, and bringing real food back to dinner tables, it pales in comparison to the potential enabled by BMi.
What is business model innovation?
A business model is defined as the rationale of how an organization creates, delivers and captures value.
+ The Key Components of Business Model
Business model innovation is a process of reinventing the business model itself, rather than focusing on end-product innovation, such as technological, material, etc. This could include simple changes, such as pricing mechanisms, distribution channels or forging new partnerships. In the end, it only the model that needs to change, not the product itself.
How do we bring BMi to the food industry?
First of all, we need to know what the objective is. From our perspective, it's the return of #realfood to the masses, and it goes far beyond organic.
In a marketplace that is dominated by ten major brands, and a supply chain saturated with GMO inputs (approximately 80%), we need to build a whole new stable of food companies who have both the brand and distribution power to take on the giants.
Graphic sourced from the Huff Post, and the article has 25K+ Likes …
As a starting point, there's a target: to replace the ten mega multinationals – who strive for profitability at all costs – with a global network of real-food enterprises.
What can we do to tweak the business model to make this happen?
Looking at the business model of the typical food enterprise, it is pretty simple.
The primary cost drivers are inputs (ie. ingredients) and salaries, along with the cost of production equipment and facilities.
The primary revenue streams are product sales, whether through retail or wholesale channels, and for many prominent retail chains, franchising fees.
Click here to view the bigger image. Download the full PDF here.
Depending on the nature of the business, margins can range drastically, from razor thin in the case of most major supermarkets, to fat-cat juicy, as is the case with most premium products and brands. The major moneymaking factor comes through scalability – for retail products, it's through global distribution, for cafés and restaurants, it's typically through national expansion.
In the Market Beacons section of our #NewEraBiz research on Food, we highlighted several enterprises that are shifting the dialogue around the dinner table through their trailblazing efforts, including:
The Peoples Supermarket

LYFE

Kitchens
Real-Time Farms
Credibles
Beyond being innovative in their own right, each of these entities has used BMi to bring their business to the masses:
The People's Supermarket uses a volunteer workforce to staff its store, and can therefore offer its products at a strong discount;
LYFE

Kitchens is building a technological system, similar to McDonalds, to streamline and scale its all-organic fast-food offering;
Real-Time Farms charges a subscription fee to restaurants, caterers and grocers to use their crowdsourced farm and artisan guide;
Credibles has built on the crowdfunding business model and developed their own form of currency to help spur local food businesses.
On a macro level, we see three key areas of focus for sparking Food BMi:
Ingredients are the key cost driver in the food business; therefore, the key to being able to offer lower prices on organic (etc) products and compete against traditional GMO offerings is to focus on cutting the costs of ingredients.
While much of the focus is on expanding the organic (etc) supply chain through agricultural means, new collaborative models need to be developed to help bring down the cost using BMi.
Some ideas for this include:
Collaborative buying schemes, where multiple companies in the same industry build collectives to buy ingredients in larger quantities from growers and vendors
'Hacking' to increase transparency in the market and shed light on the pricing structure and other variables in key input markets
Ex. Food-Tech Connect's Hack/Meat Program
Open Source Product Development, where companies, suppliers and distributors work in tandem to bring new products to market.
There are already smaller derivatives of these types of ventures underway, as many entrepreneurs and food pioneers are already beginning to experiment in this space. The key is to remember that collaboration is more important than competition, and that the whole industry needs to be overhauled- there will be more than enough of this pie for everyone once the ball really gets rolling.
Technology is the great equalizer for small companies, and food is one of the industries where technology can be used to create scale and efficiency in ways that were traditionally only available to big companies.
Beyond ERP systems at the supply chain and inventory management level, companies can use technology to build rapidly scalable entities and connect across the ecosystem to source better ingredients, find new partners and enter new markets.
Some ideas include:
Operation Scaling, where companies such as

LYFE

Kitchens use the power of technology to add efficiency to production lines and save costs on menial staff labour;
Smart Sourcing & Data Mining, using sites like Real-Time Farms to find local producers and databases to find high-level information related to market, consumers (ex.% of the population who are lactose intolerant), etc;
Mobile Payment Applications to enable customers to pay more efficiently and reach a broader market, especially for single

SKU

companies and restaurant chains.
Ex. Sweetgreens salad chain partners with LevelUp to develop their own mobile payment app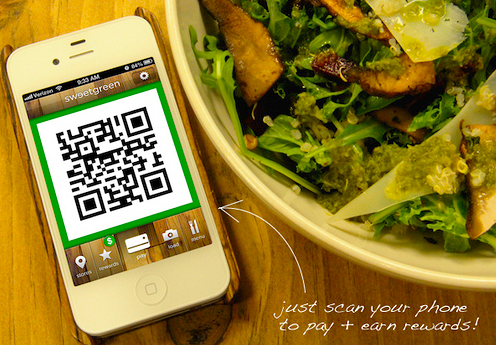 Many companies already employ technology in small ways to help them become more efficient, but it is those who can implement technology into their core business model that will see the big results in the long term.
Getting products into key supermarkets and retails stores has always been the key hurdle for new food companies face. Up to this point in history, the strategy has always been to work with distributors and agents (ie. middlemen) and offer a percentage of sales made in return.
But in the network economy, companies can start to focus on reaching customers directly and bypass the middlemen.
Some ideas include:
eCommerce, developing a strong online business right out of the gates and making full profits on every item sold;
Networks, using social media and actively engaging with specific online communities to promote new products and special offers towards;
Mail, distributing a new product via registered mail
Ex. Graze in the UK delivers its weekly snack packs via Royal Mail
Rather than focusing on vendors and distributors, the new network economy will allow future businesses to build people-powered networks and kickstart their companies via online channels.
Overall, the food landscape is ripe for BMi on multiple different levels across markets globally. Those who can take advantage of network strategies to connect across the ecosystem, and build lean enterprises via BMI, will have competitive advantages that last for the long term. The time has come to stop picking the low-hanging fruit and start harvesting the bumper crop.
Have you seen any great examples of
FOOD

BMi?

PLAN – the Business Model
Tweet